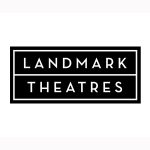 Visits Landmark theatres website for location listings
About Landmark Theatres
Landmark Theatres is a recognized leader in the industry for providing its customers consistently diverse and entertaining film products in a sophisticated adult-oriented atmosphere. Theatres showcase a wide variety of films—ranging from independent and foreign film to 3-D movies and smart films from Hollywood. Landmark Theatres is the nation's largest theatre chain dedicated to exhibiting and marketing independent film. Landmark Theatres is the owner of Spectrum 8 Theatres.
About Landmark Theatres
Stay safe. Review operational guidelines
About Landmark Tickets
Admission tickets: $7.50
Physical tickets and e-tickets are valid for any Landmark Theatre including Spectrum 8 Theatres, located at 290 Delaware Avenue, Albany, NY. Please present this ticket at the box office for one (1) admission.
Additional Ticket Details & Disclaimers
About e-tickets:
E-tickets will be emailed to you to print out yourself (no physical ticket is mailed).

Once you place your order, you will receive a confirmation email followed by an email containing your e-ticket which you can then print yourself and take to the venue. E-tickets print on one sheet of paper for each ticket purchased. To prevent e-ticket email delivery issues, please add us to your email address book.
If you plan to purchase for use over a weekend, PEF MBP strongly recommends that you purchase your tickets prior to Friday at 5 p.m. (Allowing for 48-hour delivery is best.)
After Friday at 5 p.m., if you have a problem purchasing your e-tickets, or you do not receive your e-tickets in your inbox, there is no one on staff to assist you until Monday at 9 a.m.
Once your tickets are purchased and sent via email, PEF MBP is no longer in control of your e-ticket delivery and cannot control how long it may take for your e-tickets to arrive in your inbox.
PEF MBP has no control over weekday or weekend weather occurrences that may impact internet connectivity, e-store/website functionality/access, and e-ticket purchase/delivery processes.
E-ticket FAQs
Purchase Tickets
E-Ticket(s)
Physical Ticket(s)