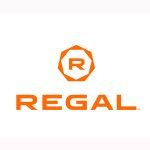 View website for locations
About Regal
Regal operates several theater brands including Regal, United Artists, Edwards, Great Escape Theatres, and Hollywood Theaters. The multi-screen theatre complexes typically contain 10 to 18 screens, each with auditoriums ranging from 100 to 500 seats. The company's theatres feature amenities, such as immersive sound, wall-to-wall and floor-to-ceiling screens, Sony Digital Cinema 4K projection systems, three-dimensional (3D) digital projection systems, IMAX and its large screen format, RPX, digital stereo surround-sound and interiors featuring video game and party room areas adjacent to the theatre lobby.
About Regal
Review operational guidelines
About Regal e-Gift Cards
Regal e-gift cards are redeemable for admission or concession purchases. E-Gift cards are not valid for special events, private screenings, or group sales ticket purchases.
$10 e-gift card—Discounted Price: $9.20
$25 e-gift card—Discounted Price: $23
Redemption Instructions
How to Redeem In-Theatre or Online:
Print out your e-gift card or present on your mobile device.
Bring to any Regal theatre.
For use at Box Office or Concession (Can be redeemed at ticketing kiosk).
Gift cards issued with a PIN can be redeemed for regular priced box office ticket purchases online.
Additional Details & Disclaimers
Purchase e-Gift Cards
e-Gift Card(s)