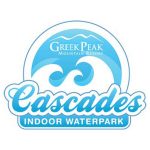 2000 NYS Rt. 392, Cortland, NY 13045
(866) 764-7017
About Cascades Indoor Waterpark
Check back for ticket sales.
Make a splash with perfect 84-degree weather year-round at Cascades Indoor Waterpark, part of Greek Peak Mountain Resort. The waterpark features more than 150,000 gallons of water, more than 500 feet of water slides, an activity pool, a wading pool, hot tubs, and much more. It is located inside of Hope Lake Lodge, a luxurious "Green" Hotel with panoramic views in every direction. An arcade, a cafe, and lockers are available.
About Cascades Indoor Waterpark
Cascades Indoor Waterpark's Operational and Health and Safety Guidelines
Please visit the Cascades Indoor Waterpark website prior to your visit for current Operational and Health & Safety Guidelines that may impact your visit. All current State and Federal COVID regulations apply for all visitors. Masks are not to be worn in the water. Guidelines are subject to change at anytime.
PLEASE NOTE: PEF MBP will not be responsible for providing a refund due to vendor or state COVID-19 guidelines and restrictions. All sales are final.
About Cascades Indoor Waterpark Tickets
Good any day tickets: $20
Tickets are valid for one (1) day admission for individuals 2 years of age and older. Children under 2 years of age are free.
Cascades Indoor Waterpark maintains a maximum occupancy in order to provide a safe recreational experience for you and your family and does sell out during busy weekends and holiday periods.
Reservations are required. To reserve your desired date, call (855) 950-7233 and let them know you have a voucher(s).
PLEASE NOTE: You must show your voucher(s) at the time of admission or you will be charged the regular admission rate.
Additional Ticket Details & Disclaimers
Purchase Tickets
Physical Ticket(s)