Protect Your Paycheck & What You Love About Life
Life is a journey with unexpected twists and turns. Having the right insurance gives you the freedom to live your life instead of worrying about it. No matter where you are in life, your future needs to be protected. Whether that means enjoying your new baby instead of worrying about hospital bills, or focusing on family–not finances–in a time of need, insurance can help you prepare for all that life has to offer.
Short-Term Disability Insurance Features
Surgery, having a baby, or even an illness can keep you away from work. Short-Term Disability (STD) insurance may give you the financial support you need to pay your expenses until you are back on your feet and back to work. This insurance provides you with a weekly cash benefit to help pay for expenses (such as mortgage/rent, utilities, childcare, or groceries) if you are unable to work for a short time due to a covered disability.
Eligibility
You may be eligible for Short-Term Disability insurance as an active, dues-paying PEF member.
PLEASE NOTE: NYS employees are not eligible for New York Disability Benefits Law coverage, therefore this insurance program may be of interest to you! Without this insurance, you may have to use your sick time, vacation time, or even put your paycheck at risk if you are out of work due to a short-term disability.
How it works
You have the opportunity to buy affordable protection that may provide you with a weekly benefit once your claim is approved. This replacement income can help you manage your expenses without relying solely on vacation days, sick pay, or your savings to stay on track with your expenses.
Coverage amount
You choose the benefit option that best fits your needs. Your Short-Term Disability benefit payments are not subject to federal income tax and will not be reduced by other income even though you may be entitled to sick leave or have other insurance coverage.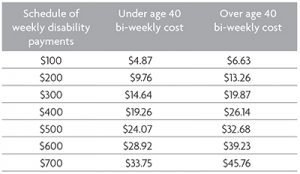 Important points to consider
Get a weekly check—after your claim is approved—that replaces a portion of your income while you recover from a covered disability.
Begin receiving benefits in as soon as one day for an injury and eight days for sickness—from the date you are unable to work. You must be under the care of a legally qualified physician.
Benefits are not payable for disabilities caused by, contributed to by, or resulting from a pre-existing condition for the first twelve (12) months (six (6) months for members 65 and older) following the effective date of insurance or an increase in insurance. A pre-existing condition is one for which an insured has received medical treatment, consultation, care, or services, including diagnostic measures or prescribed drugs or medicine, within the three (3) months prior to his or her effective date of insurance or increase in insurance. Please refer to your certificate for additional details.
Receive a weekly check for up to 26 week—as long as you are still unable to work due to a covered disability.
No Short-Term Disability benefit is payable for any Total Disability that is due to:

intentionally self-inflicted injuries;
a war, declared or undeclared, or any act of war;
your active participation in a riot or insurrection;
or your participation in a felony.

Provide your survivors with a lump sum benefit if your death occurs while you are eligible to receive a net monthly benefit and your Total or Partial Disability has continued for fourteen (14) consecutive days.
STD Brochure
To learn more about Short-Term Disability insurance
Call the PEF Membership Benefits Program at (518) 785-1900 or (800) 342-4306, ext. 243, opt. 2.
Call Sun Life with your insurance questions during PEF MBP off hours. View dates and times.
View Cristie's Sun Life story.
How to Enroll During the Modified Open Enrollment
You can enroll between September 1 and October 31, 2020, during the special modified open enrollment with no medical questions asked up to $400, the amount approved for this open enrollment.¹ If you are already enrolled, you can increase your coverage by two (2) levels up to the maximum of $700. If you decide you want to apply for a higher coverage amount than offered during the modified open enrollment, you must complete an Evidence of Insurability (EOI) form, also referred to as a medical questionnaire.
Enroll now
View MOE allowances
EOI Form
To learn more about PEF MBP's insurances and the modified open enrollment, view the MOE webinar recording..
View now ⇒
Important Information Regarding theEnrollment Process
If you have existing coverage, your form will display the levels of coverage you are entitled to select.
You must complete your form in one sitting, You cannot stop and come back to the form to complete it. You can only submit the form once.
If you will be applying for spousal/domestic partner or child(ren) coverage, please have all your information handy as you must complete the form in it's entirety once you begin the process.
You must enter a signature in the signature box or you will not be able to submit the application.
The online application is the fastest process. If you prefer to have a paper application, we can email or mail one, but the process will be much slower especially if, once the application is submitted, PEF MBP has questions about your application or if information is incomplete. The application must be properly completed no later than midnight, October 31.
Once you submit your application, if you receive a phone call or email from the PEF MBP insurance department, be sure to respond as soon as possible as any delay could impact PEF MBP's ability to process your application by midnight, October 31.
Once you submit your application, keep an eye out for any mail from PEF MBP insurance, as it may contain important information regarding your application that requires your follow-up.
Once you submit your application, please allow for two (2) payroll cycles to hit and then check your pay stub where you will see your premium payment deduction.
How to Enroll Outside the Modified Open Enrollment Period
For new employees on the job less than 120 days
If you are a new employee (on the job less than 120 days) in the PS&T (Professional, Scientific & Technical) unit, you may enroll with no medical questions asked1 up to the $400 weekly benefit level. If we do not receive your insurance application(s) within 120 days of your date of hire with the PS&T Unit, you can still enroll in the insurances, but you will also need to complete an Evidence of Insurability (EOI) form.
Current, active employees (on the job more than 120 days) in the PS&T unit
If on the job more than 120 days, you must complete the short-term disability application as well as an Evidence of Insurability form (EOI).
You must join PEF before you can enroll in any one or more insurances.
When an Evidence of Insurability Form (EOI) is Needed
1. If you did not elect insurance in your first 120 days of employment with the PS&T unit.
2. If you are increasing coverage on an existing insurance policy.
3. If a PEF MBP representative requests that you complete and EOI form.
EOI Form
If you are downloading and completing the insurance enrollment application and the medical questionnaire, return both to PEF MBP at:
PEF Membership Benefits Program
10 Airline Drive
Albany, NY 12205
For more information: Call the PEF Membership Benefits Program at (518) 785-1900, ext. 243, opt. 2, or (800) 342-4306, ext. 243, opt. 2. You may also email PEF Membership Benefits Program.
Footnotes, Additional Details & Disclaimers