Protect Your Paycheck & What You Love About Life
A serious illness or injury can turn your life upside down for months—or even longer—and it might, also, mean you aren't able to work. If this happens, Long-Term Disability (LTD) insurance may give you the financial support you need so you can focus on getting better. Sun Life's Long-Term Disability insurance, made available through the PEF Membership Benefits Program, is available to help you return to work and your normal routine as quickly as possible. During the special modified open enrollment you can enroll and/or increase your existing coverage with no medical questions asked, up to the amount approved for this open enrollment.¹
Long-Term Disability Insurance Features
Eligibility
You may be eligible for Long-Term Disability insurance as an active, dues-paying PEF member.
PLEASE NOTE: Restrictions apply for hourly members and per diem members are not eligible for coverage.
How it works
Long-Term Disability insurance provides you with a monthly benefit to help pay for everyday expenses (such as a mortgage, rent, utilities, childcare, or groceries), if a covered disability (e.g., back injuries or some chronic illnesses such as a heart attack, cancer, or stroke) takes you away from work for an extended time. You'll continue to receive benefits until you're able to return to work or until you reach the end of your benefit period. The definition of disability is the inability to engage in the material and substantial duties of your own occupation during the first two-and-a-half years that benefits are payable. Thereafter, disability is the inability to perform any occupation for which you are or can become qualified for with training, education, or experience.
If you become too sick to work, or an injury keeps you out of work, and you have a long term disability policy in place, you'll submit a claim along with information about your condition from your doctor. If your claim is approved, you'll start receiving the benefits determined by your plan as soon as the waiting period has passed. The money is paid to you directly, and there are no limitations on how it can be spent.
Coverage amount
The Long-Term Disability plan offers two levels of coverage from which you can choose: 50% or 60% of your monthly income based on your salary on file at the time of disability, up to $7,500 per month. Your LTD benefit will be based on your monthly income, and it will not take into account earnings from investments or savings plans. The plan will offset benefit payments by other sources of income for which you may be eligible (e.g., workers' compensation, Social Security; disability pension, or other NYS retirement payments, etc.).
Most common Long-Term Disability claims
Musculoskeletal disorders
Cancer
Injuries such as fractures, sprains, and strains of muscles and ligaments
Mental health issues
Circulatory issues such as a heart attack or a stroke
Important points to consider
Get a monthly check—after your claim is approved—that replaces 50% or 60% of your monthly income based on your salary on file at the time of disability, up to $7,500 a month, while you recover from a covered disability.
Begin receiving benefits in as soon as six (6) months from the date you are unable to work. Receive a monthly benefit for up to the maximum benefit period or Social Security Normal Retirement Age if you are disabled before age 60—as long as you are still unable to work due to a covered disability. If you are disabled after age 60, you are eligible to receive a monthly benefit from one year to five (5) years, depending on your age.
No Long-Term Disability benefit will be payable to you for any disability that results from a pre-existing condition. A pre-existing condition is one for which you took medication or received treatment during the six (6) months before your effective date, or the effective date of an increase in your insurance. The exclusion applies only during the twelve (12) months (six (6) months for members age 65 and older) following your effective date.
No Long-Term Disability benefit will be payable for any Total or Partial Disability that is due to:

intentionally self-inflicted injuries;
war declared or undeclared or any act of war;
your active participation in a riot or insurrection; or
your participation in a felony.

Qualify for additional benefits if your covered disability begins with a hospital stay of fourteen (14) days or more.
Work with a certified rehabilitation specialist, when appropriate, to create a return-to-work plan that's right for you.
Provide your survivors with a lump sum benefit if your death occurs while you are eligible to receive a net monthly benefit and your total or partial disability has continued for 180 consecutive days.
Choose the benefit amount that best meets your needs and your budget. Your cost depends on factors such as your age, monthly earnings, and the benefit amount you elect.
Available benefit amounts and costs based on a 26 bi-weekly pay period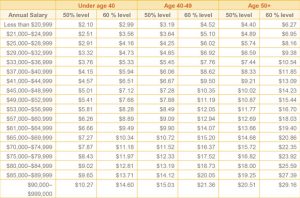 Why choose Sun Life long-term disability insurance
Long-Term Disability insurance can be costly. The program benefit that the PEF Membership Benefits Program provides through Sun Life is a group policy, so the rates are generally less expensive than what you will find if you try to purchase a plan elsewhere. Medical expenses and job loss are two of the most common reasons individuals file for bankruptcy.3 If you lost your income because you were injured or became too sick to work, would you be able to cover your living expenses, plus additional medical bills? For most people, the answer is no.
In addition, the PEF Membership Benefits Program's Long-Term Disability insurance includes the following features:
Retro Disability benefit–pays benefits retroactively to the first day of disability if you are hospitalized within 48 hours of disability, and then remain hospitalized continuously for fourteen (14) days or more, and remain totally disabled through the end of the Elimination Period.
Survivor Income benefit–a three-month Survivor Income benefit that pays a lump sum equal to three times your monthly benefit after Total or Partial Disability has continued for at least 180 consecutive days and while you are eligible to receive a monthly benefit.
Residual Disability–you do not need to be Totally Disabled during the Elimination Period.
Return-to-work benefit–the plan pays a Return-to-Work benefit if you return to work on a part-time basis.
Assisted Living benefit–pays an additional 20% of total monthly earnings or $5,000, whichever is less, if you are disabled and are also cognitively impaired or unable to perform two or more activities of daily living.
Rehabilitation benefit–pays a Rehabilitation benefit if you participate in a rehabilitation program approved by Sun Life.
For information regarding your current coverage, or this special modified open enrollment:
Call (800) 767-1840 or (518) 785-1900, ext. 243, opt. 2
Email the PEF MBP insurance department
View Cristie's Sun Life Story.
How to Enroll During the Modified Open Enrollment
You can enroll between September 1 and midnight, October 31, 2023, during the special modified open enrollment with no medical questions asked up to 50% of your monthly income, the amount approved for this open enrollment.¹ If you decide you want to apply for a higher coverage amount than what is offered during the modified open enrollment, you must complete an Evidence of Insurability (EOI) form, also referred to as a medical questionnaire. If you are already enrolled, you can increase your coverage from 50% to 60% of your monthly income.
Take the time to download the insurance form instructions whether you are enrolling for the first time, or if you are increasing coverage in an existing plan. These instructions will help you to complete the application form properly and ensure a successful submittal.
To access the online insurance enrollment form, make sure you are signed into the website with your MIN. If you are not signed in, you will not see the insurance enrollment button below, that provides access to the online form.
Ready to enroll? Please click the button below for access to the application.
You will not be able to successfully submit your insurance application until all required fields (indicated by a red asterisk *) are completed.
Online Form Instructions
View MOE allowances
EOI Form
How to Enroll Outside the Modified Open Enrollment Period
For new employees on the job less than 240 days
If you are a new employee (on the job less than 240 days) in the PS&T (Professional, Scientific & Technical) unit, you may enroll with no medical questions asked¹. If we do not receive your insurance application(s) within 240 days of your date of hire with the PS&T unit, you can still enroll in the insurances, but you will also need to complete an Evidence of Insurability (EOI) form.
Current, active employees (on the job more than 240 days) in the PS&T unit
If on the job more than 240 days, you must complete the long-term disability application as well as an Evidence of Eligibility (EOI) form.
You must join PEF before enrolling in any one or more insurances.
When an Evidence of Insurability Form is Needed
1. If you did not elect insurance in your first 240 days of employment with the PS&T unit.
2. If you are increasing coverage on an existing insurance policy.
3. If a PEF MBP representative requests that you complete an EOI form.
If you are downloading and completing the insurance enrollment application and the medical questionnaire, return both to:
EOI Form
PEF Membership Benefits Program
10 Airline Drive, Suite 101
Albany, NY 12205
For more information: Call the PEF MBP at (800) 767-1840 or (518) 785-1900, ext. 243, opt. 2. You may also email the PEF MBP insurance department.
Footnotes, Additional Details & Disclaimers