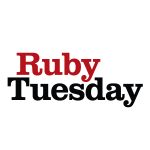 Visit their website for locations
About Ruby Tuesday
Some have a gift for great food. Others would love to get one from you. So purchase a Ruby Tuesday e-gift card and reward your friends and family with fresh, delicious Ruby Tuesday selections. From their Fresh Garden Bar to America's best burger, from affordable lunch combos to signature entrees, the Ruby Tuesday menu is full of variety and value.
Give a Ruby Tuesday e-gift card to anyone who likes casual dining with outstanding food served in comfortable, stylish surroundings. From the create-your-own Garden Bar to a tender Asiago Peppercorn Sirloin, or Hickory Bourbon Salmon with a White Chocolate Cherry Cheesecake to finish, the experience is a total delight. For lunch, try a handcrafted burger made with 100% USDA Prime or Choice beef. Your friends will love getting Ruby Tuesday e-gift cards.
About Ruby Tuesday
About Ruby Tuesday e-Gift Cards
$25 e-gift card—Discounted price: $23
Redemption Instructions
How to Redeem In Restaurant
Print out your e-gift card
Give to your server when paying
Ruby Tuesday does not allow for mobile redemption at this time.
Additional Details & Disclaimers
rubytuesday.com
e-Gift Card(s)