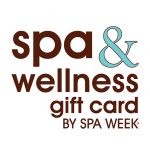 Visit their website for locations
About Spa & Wellness
The Spa & Wellness e-gift card® is accepted at over 9,000 spa and wellness facilities across the U.S., Canada, and Puerto Rico. The card never expires and has no added fees. More than just massages and facials . . . use the Spa & Wellness e-gift card® to access thousands of services such as:
Massages
Facials
Manicures/Pedicures
Haircuts & color
Waxing
Laser hair removal
Botox
Yoga/ Pilates
Acupuncture
Body Wraps
Chiropractic sessions and more!
To find the closest location, visit Spa & Wellness online.
About Spa & Wellness
About Spa & Wellness e-Gift Cards
$25 e-gift card—Discounted price: $20
How to Redeem
Visit spaweek.com and search the Directory for locations that "Accepts Gift Card".
Call the spa directly to schedule a treatment.
Present your e-gift card, either a printed copy or display on a mobile device, prior to receiving your service.
Additional Details & Disclaimers
Purchase e-Gift Cards
e-Gift Card(s)