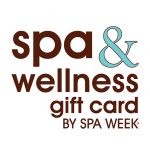 Visit their website for locations
About The Spa & Wellness by Spa Week
The Spa & Wellness Gift Card® is accepted at over 9,000 spa and wellness facilities across the U.S., Canada, and Puerto Rico. The card never expires and has no added fees.
More than just massages and facials . . . use the Spa & Wellness Gift Card to access thousands of services such as: Massages, Facials, Manicure, Pedicures, Haircuts & Color, Waxing, Laser Hair Removal, Botox, Yoga, Pilates, Acupuncture, Body Wraps, Chiropractic sessions and more.
Visit them online today to find the closest location near you.
About Spa & Wellness
About the Spa & Wellness Gift Card
$25 gift card—Discounted price: $19.75
Additional Details & Disclaimers
Purchase Gift Cards
Gift Card(s)