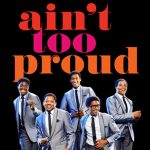 646 Main Street, Buffalo, NY 14202
(716) 847-1410
Ain't Too Proud
Ain't too Proud—The Life and Times of The Temptations is the electrifying new smash-hit Broadway Musical that follows The Temptations' extraordinary journey from the streets of Detroit to the Rock & Roll Hall of Fame.  The winner of the 2019 Tony Award for Best Choreography, it's a thrilling story of brotherhood, family, loyalty, and betrayal during a decade of civil unrest in America. Set to the beat of the group's treasured hits, including "My Girl," "Just My Imagination," "Get Ready," "Papa Was a Rolling Stone," Ain't Too Proud tells the unforgettable story of the legendary quintet that Billboard Magazine named the greatest R&B group of all time.
Date: Sunday, May 15, 2022
Time: 6:30 p.m.
Ticket Price: $60
Location: Shea's Performing Arts Center, 646 Main Street, Buffalo, NY 14202
Seating: Orchestra 2
Limited tickets available. Ticket sales end 5/1/22.
PLEASE NOTE: Your seats will not be assigned nor available until approximately 2 weeks prior to the performance date. There is no guarantee that the seats you purchase for your party will be together.
About Shea's Performing Arts Center
Important COVID Vaccination Requirement
By purchasing tickets for this event, you confirm that at the time of the event you will be fully vaccinated against COVID-19 (14 days past final vaccination shot). Masks must be worn at all times when you are inside the venue. Children under 12 years of age can attend with a fully vaccinated adult, but must wear a mask at all times. Therefore, anyone over the age of 11, including students, must present proof of vaccination.
Proof of identification AND vaccination required before entering Shea's Buffalo, 710, and Smith theatres.
If a child under 18 comes with an adult (with a school group or a parent), ID not required.
Anyone over 18 needs ID.
Entry requirements are subject to change.
Shea's Operational and Health and Safety Guidelines
Please review the 2021–2022 Operational and Health and Safety Guidelines which include operational information, COVID-19 guidelines, mask and vaccine mandates, and restrictions that you should be aware of prior to purchasing your tickets and before arrival. It is also encouraged that you check state and travel guidelines as restrictions could impact your ticket purchase.
PLEASE NOTE: PEF MBP will not be responsible for providing a refund due to vendor or state COVID-19 guidelines and restrictions.
About the Ticket Process:
All tickets will be issued electronically via the Shea's app. The process for accessing your show tickets is outlined below.
Once you purchase your ticket(s) from PEF MBP, you will receive an email confirming your e-ticket/mobile ticket purchase. This confirmation email serves only to confirm your order and does not provide access to your mobile tickets.
Approximately 2 weeks prior to the performance, you will receive an email from Shea's that provides you with a link to the Shea's website.
On your phone or computer, visit Shea's and tap the user icon in the upper right corner.
You will need to create or log in with a Shea's account.

Log in using the email address and password associated with your Shea's Account.
Select the menu in the upper left hand corner and click "My Tickets".
Upon sign-in, select your event, and click "View Barcode" to display your ticket.
To view additional seats to the event, swipe left.
For the quickest entry, members are strongly encouraged to add their tickets to their phone's wallet. Apple users should tap the "Add to Apple Wallet" button and Android users should tap the Google Pay "Save to Phone" button.
Your ticket will be scanned at the gate. Screenshots are not valid for entry. Proceed to the gate listed on your ticket the day of the event.
It is recommended that you download your tickets at least 24 hours before the show.
For more information:
Shea's Performing Arts Center Mobile Ticketing
Additional Ticket Details & Disclaimers
Ticket sales end 5/1/22. Due to the very limited quantity of tickets available, the maximum number of tickets allowed per member is four (4). Orders are filled on a first come, first served basis. While we strive to keep your seats together, we cannot make any guarantees on seating arrangements. It is suggested that members purchase tickets early for the best possible seating assignments. All sales are final. The PEF Membership Benefits Program cannot be responsible for lost, stolen, damaged, expired, or used without permission tickets. No refunds or exchanges, which includes unused tickets and e-tickets. Absolutely no refunds under any circumstances due to Shea's Performing Arts Center show changes, seating assignments, etc., which are out of the control of PEF MBP.
Purchase Tickets
Ticket(s)