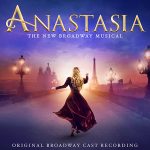 646 Main Street, Buffalo, NY 14202
(716) 847-1410
Anastasia
The romantic and adventure-filled new musical Anastasia is at home in Buffalo at last! This dazzling show will transport you from the twilight of the Russian Empire to the euphoria of Paris in the 1920s, as a brave young woman sets out on a journey to discover the mystery of her past. Pursued by a ruthless Soviet officer determined to silence her, Anya enlists the aid of a dashing conman and a lovable ex-aristocrat. Together, they embark on an epic adventure to help her find home, love, and family. With its opulent settings, dazzling costumes, and a soaring score including the song favorites from the hit animated film, "Journey to the Past" and "Once Upon a December," Anastasia is the spectacular new musical about discovering who you are and defining who you're meant to be.
Date: Tuesday, April, 19, 2022
Time: 7:30 p.m.
Ticket Price: $60
Location: Shea's Performing Arts Center, 646 Main Street, Buffalo, NY 14202
Seating: Orchestra
Limited tickets available.
PLEASE NOTE: Your seats will not be assigned nor available until approximately 2 weeks prior to the performance date. There is no guarantee that the seats you purchase for your party will be together.
About Shea's Performing Arts Center
Important COVID Vaccination Requirement
Beginning October 28, 2021, all guests at Shea's Buffalo must be fully vaccinated for entry to performances. Patrons are considered fully vaccinated at least 14 days after their final dose of a Pfizer, Moderna, or the single dose of the Johnson & Johnson COVID-19 vaccine.
Shea's Operational and Health and Safety Guidelines
Please review the 2021 Operational and Health and Safety Guidelines which include operational information, COVID-19 guidelines, mask and vaccine mandates, and restrictions that you should be aware of prior to purchasing your tickets and before attending the event. It is also encouraged that you check state and travel guidelines as restrictions could impact your ticket purchase.
PLEASE NOTE: PEF MBP will not be responsible for providing a refund due to vendor or state COVID-19 guidelines and restrictions.
About the Ticket Process:
All tickets will be issued electronically via the Shea's app. The process for accessing your show tickets is outlined below.
Once you purchase your ticket(s) from PEF MBP, you will receive an email confirming your e-ticket/mobile ticket purchase. This confirmation email serves only to confirm your order and does not provide access to your mobile tickets.
Approximately 2 weeks prior to the performance, you will receive an email from Shea's that provides you with a link to the Shea's website.
On your phone or computer, visit Shea's and tap the user icon in the upper right corner.
You will need to create or log in with a Shea's account.

Log in using the email address and password associated with your Shea's Account.
Select the menu in the upper left hand corner and click "My Tickets".
Upon sign-in, select your event, and click "View Barcode" to display your ticket.
To view additional seats to the event, swipe left.
For the quickest entry, members are strongly encouraged to add their tickets to their phone's wallet. Apple users should tap the "Add to Apple Wallet" button and Android users should tap the Google Pay "Save to Phone" button.
Your ticket will be scanned at the gate. Screenshots are not valid for entry. Proceed to the gate listed on your ticket the day of the event.
It is recommended that you download your tickets at least 24 hours before the show.
For more information:
Shea's Performing Arts Center Mobile Ticketing
Additional Ticket Details & Disclaimers
Due to the very limited quantity of tickets available, the maximum number of tickets allowed per member is four (4). Orders are filled on a first come, first served basis. While we strive to keep your seats together, we cannot make any guarantees on seating arrangements. It is suggested that members purchase tickets early for the best possible seating assignments. All sales are final. The PEF Membership Benefits Program cannot be responsible for lost, stolen, damaged, expired, or used without permission ticket. No refunds or exchanges, which includes unused tickets and e-tickets. Absolutely no refunds under any circumstances due to Shea's Performing Arts Center show changes, seating assignments, etc., which are out of the control of PEF MBP.
Purchase Tickets
Ticket(s)