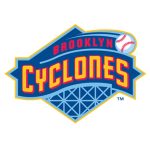 Maimonides Park, 1904 Surf Ave, Brooklyn, NY 11224
(516) 455-7981
Brooklyn Cyclones vs Hudson Valley Renegades
Date: Friday, August 19, 2022
Time: 7 p.m.
Location: Maimonides Park, 1904 Surf Ave., Brooklyn, NY 11224
Seating: Field Box 6
Ticket Price: $10 (Everyone who buys a ticket to this game has the option to take advantage of a free ticket to the game on 8/30/22.)
Group Night Special Promotions:
All attendees get a chance to run the bases after the game
First 2,000 fans through the gate receive a mystery Mets bobblehead
Enjoy the Augoktoberfest (like Octoberfest) game night theme
Stay and watch the fireworks after the game
Limited tickets available. Ticket sales end on 8/7/22 or when tickets sell out, whichever comes first.
PLEASE NOTE: Your seats will not be assigned nor available until approximately 2 weeks prior to the game date. There is no guarantee that the seats you purchase for your party will be together.
About Brookyln Cyclones
Please visit the Brooklyn Cyclones website prior to your visit for current Operational and Health & Safety Guidelines that may impact your visit. Guidelines are subject to change at anytime.
PLEASE NOTE: PEF MBP will not be responsible for providing a refund due to vendor or state COVID-19 guidelines and restrictions.
About the Ticket Process
All tickets will be issued electronically via email. The process is outlined below.
Seating assignments will be made once all tickets have been purchased. While we strive to keep seats together, sometimes that is not possible, however members will be notified in advance if seats are not together.
You will receive your tickets via email directly from PEF MBP no later than 2 weeks prior to the game. To avoid delivery issues, please add mbp@pef.org to your email address book.
You may print your tickets and bring them with you to the game, or show them on your mobile phone at the venue.
Additional Ticket Details & Disclaimers
E-Ticket(s)