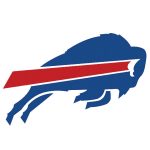 1 Bills Drive, Orchard Park, NY
(646) 977-8060
Buffalo Bills vs Cleveland Browns
Date: Sunday, November 20, 2022
Time: 1 p.m.
Ticket Price: $99
Location: Highmark Stadium, 1 Bills Drive, Orchard Park, NY
Seating: Section 101
Limited tickets available. Ticket sales end 10/30/22 or when tickets sell out, whichever comes first.
PLEASE NOTE: Your seats will not be assigned nor available until approximately 2 weeks prior to the game date. There is no guarantee that the seats you purchase for your party will be together.
About Buffalo Bills
Please visit the Buffalo Bills website prior to your visit for current Operational and Health & Safety Guidelines that may impact your visit. Guidelines are subject to change at anytime.
PLEASE NOTE: PEF MBP will not be responsible for providing a refund due to vendor or state COVID-19 guidelines and restrictions.
About the Ticket Process:
All tickets will be issued electronically via the Bills app. The process for accessing your game tickets is outlined below.
Once you purchase your ticket(s) from PEF MBP, you will receive an email confirming your e-ticket/mobile ticket purchase. This confirmation email serves only to confirm your order and does not provide access to your mobile tickets.
Approximately 2 weeks prior to the game on November 20th, you will receive an email from the Buffalo Bills that provides you with a link to the Buffalo Bills app that you will need to download on your smartphone to access your tickets.
You will need to create or log in with a Buffalo Bills account. A Buffalo Bills account is free and easy to create directly from the Buffalo Bills app or by clicking on the right-most button on the top navigation bar on buffalobills.com.
Open the Buffalo Bills app on your phone, and log-in to an existing Buffalo Bills account or create a new account with the same email address used to buy your tickets which are being transferred to you from the Buffalo Bills. Your Buffalo Bills account will automatically become associated with your Buffalo Bills ticket account.
In the tickets tab, select account manager to sign-in.
Once you are signed in, select the event to view your tickets.
Select view barcode or add the tickets to your Apple Wallet or Google Play.
Add your ticket(s) to your phone's digital wallet in advance to avoid slow or weak WiFi or cellular signals at the stadium.
Make sure you have a full battery charge before you head to the stadium.
If you are attending with guests, transfer to each person their own ticket in advance.
For more information, view:
Buffalo Bills Mobile Ticket Delivery
Additional Ticket Details & Disclaimers
Purchase Tickets
E-Ticket(s)