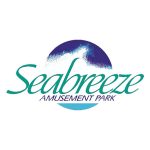 4600 Culver Rd., Rochester, NY 14622
(585) 323-1900
About Seabreeze Amusement Park
Seabreeze Amusement Park features a variety of rides and attractions for all ages; including four (4) roller coasters, thrill rides, live shows, a waterpark, and more. Check out the two new waterslides added to the waterpark—Twister, an open body flume slide and Pipeline, an enclosed body slide. Visit Seabreeze Amusement Park this summer, recently ranked as #15 in the "Best of the Best" lists for Amusement Parks in the United States, by Trip Advisor.
About Seabreeze
Seabreeze's Operational and Health & Safety Guidelines
Please visit the Seabreeze website prior to your visit for current Operational and Health & Safety Guidelines that may impact your visit. Guidelines are subject to change at anytime.
PLEASE NOTE: PEF MBP will not be responsible for providing a refund due to vendor or state COVID-19 guidelines and restrictions.
About the Seabreeze July 17, 2022 Tickets
1-day admission ticket: $31
Tickets are valid for one (1) day admission to the park, a barbeque lunch, and parking on July 17, 2022.  Each ticket is valid for individuals 3 years of age and older. Children 2 years of age and younger are free.
PEF Day at Seabreeze Details:
Park hours: 11 a.m.–9 p.m.
Ride time: 11 a.m.–9 p.m.
Slide time: 11 a.m.–7 p.m.
Pavilion name: Grove name will be printed on the wristband you will be wearing the day of the event
Pavilion time: 11 a.m.–8 p.m.
Food time: noon–3 p.m.
Unlimited soda in pavilion: 11:45 a.m.–3:15 p.m.
All you can eat buffet: barbequed chicken, hot dogs, hamburgers, veggie burgers, pasta salad, potato salad, fruit salad, potato chips, ice cream, and unlimited soda.
Members will need to go to the prepaid express line and exchange the printed out e-ticket for a wristband. No one else will be allowed in the grove that doesn't have a wristband with the Grove B printed on it.
Additional Ticket Details & Disclaimers
About e-tickets:
E-tickets will be emailed to you to print out yourself (no physical ticket is mailed).
Once you place your order, you will receive a confirmation email followed by an email containing your e-ticket which you can then print yourself and take to the venue. E-tickets print on one sheet of paper for each ticket purchased. To prevent e-ticket email delivery issues, please add etickets@pef.org to your email address book.
If you plan to purchase for use over a weekend, PEF MBP recommends that you purchase your tickets prior to Wednesday at 5 p.m. (Allow for 48-hour delivery.)
After Friday at 5 p.m., there is no one on staff to assist you until Monday at 9 a.m.
Once your tickets are purchased and sent via email, PEF MBP is no longer in control of your e-ticket delivery and cannot control how long it may take for your e-tickets to arrive in your inbox.
The e-ticket you receive will need to be redeemed for a wristband at the prepaid express lin upon your arrival at the park.
PEF MBP has no control over weekday or weekend weather occurrences that may impact internet connectivity, e-store/website functionality/access, and e-ticket purchase/delivery processes.
E-ticket FAQs
Purchase Tickets
E-Ticket(s)