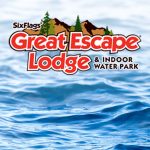 89 Six Flags Drive, Queensbury, NY 12804
(518) 824-6000
About Six Flags Great Escape Lodge & Indoor Water Park
Bring the whole crew, relax and enjoy your best vacation ever! Six Flags Great Escape Lodge offers several Adirondack-themed suite styles designed to create the ideal family escape. The well-furnished suites comfortably accommodate from four to twelve guests and offer warm, rustic charm.
Then, head to the waterpark and get ready for endless splashes, swirls, spills, squeals and smiles! Float leisurely on inner tubes, enjoy the thrills of a whitewater rafting experience, catch a wave with some surfing, ride the tubes through curls and tunnels, or explore a treehouse full of slides and water features. The weather inside is always a balmy 82°, so grab your suits and swim shoes and get ready to make a splash!
About Six Flags Great Escape Lodge
About the Discount
There are currently no offers available. Please check back.