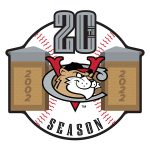 80 Vandenburgh Avenue, Troy, NY 12180
(518) 629-2287
About the Tri-City ValleyCats
The Tri-City ValleyCats are a Minor League Baseball team based in Troy, New York. With over 90 former ValleyCats reaching Major League Baseball, 8 division titles, 3 New York-Penn League championships, and a history of solid and loyal fan support, the team has a consistent track record of success both on the field and in the stands. The Joseph L. Bruno Stadium ("The Joe"), built on the Hudson Valley Community College campus in 2001, continues to be "home" for the Tri-City ValleyCats. This season is the ValleyCats' 20th season of baseball and fun for the whole family.
Please visit the Tri-City ValleyCats website prior to your visit for any Operational and Health & Safety Guidelines that may be enacted at any time due to COVID restrictions.
PLEASE NOTE: PEF MBP will not be responsible for providing a refund due to vendor or state COVID-19 guidelines and restrictions. All sales are final.
Tri-City ValleyCats PEF Night Tickets
SouthPaw's Not-So-Scary Halloween (vs the Sussex County Miners)
Date: Wednesday, August 31, 2022
Ticket Price: $2.50
Time: 6:30 p.m.
Seating: Grandstand
Event Details: Trick or Treat around the ballpark, costumes encouraged, NY's 529 drawstring bag giveaway, and Halloween games and music.
PLEASE NOTE: All orders placed after 8/21/22, must be picked up at the PEF MBP office by 8/30. After 8/30, tickets will be available for pick up at the Joe Bruno Stadium will call office on the night of the game.
Additional Ticket Details & Disclaimers
Purchase Tickets
Physical Ticket(s)