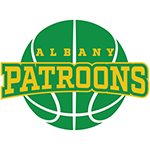 195 Washington Ave, Albany, NY 12210
(518) 512-5203
About Albany Patroons
The Albany Patroons are a professional basketball team that plays in The Basketball League (TBL). They play at the Washington Ave Armory which is located in Albany, New York. The Patroons became a member of North American Premier Basketball (NAPB) in the 2018 season. The league was later renamed to The Basketball League prior to the 2019 season. The 2023 regular season schedule runs through May 26, 2023, followed by the postseason.
About Albany Patroons
2023 Home schedule
Please visit the Albany Patroons website prior to your game for any Operational and Health & Safety Guidelines that may impact your experience. Guidelines are subject to change at any time.
About the Albany Patroons 2023 Ticket
PEF members and retirees receive discounted adult general admission tickets for regular season games, upon showing their PEF ID card at the box office on game day.
Adult ticket: $9 (reg. price $15)
You may be also purchase tickets for children 12 & under at the regular price of $5.
All seats are General Admission, allowing members and retirees to sit anywhere they choose in the arena. You will purchase your ticket(s) on the day of the game at the box office. You must show your PEF ID to receive the adult ticket discount. Tickets are available for purchase online through the Patroons website, however you will not receive the PEF ID discount unless you purchase at the box office on the day of the event. Tickets are only for regular season games—not postseason.
Additional Ticket Details & Disclaimers
Ticket supplies are limited and availability is not guaranteed. Check the team website for game schedules. All sales are final. The PEF Membership Benefits Program cannot be responsible for lost, stolen, damaged, expired, or used without permission tickets.