Protect Your Paycheck & What You Love About Life
Surgery, having a baby, or even an illness or injury can keep you away from work. Your ability to earn a paycheck is your most valuable asset. Help protect it with Short-Term Disability (STD) insurance, a benefit that works for you when you can't, due to a covered disability. It's an affordable way to continue receiving a steady income so you can focus on getting better. This insurance provides you with a weekly cash benefit to help pay for expenses (such as mortgage/rent, utilities, childcare, or groceries) without relying solely on vacation days, sick pay, or your savings to stay on track with your expenses.
Short-Term Disability Insurance Features
Eligibility
You may be eligible for Short-Term Disability insurance as an active, dues-paying PEF member.
PLEASE NOTE: NYS employees are not eligible for New York Disability Benefits Law coverage, therefore this insurance program may be of interest to you! Without this insurance, you may have to use your sick time, vacation time, or even put your paycheck at risk if you are out of work due to a short-term disability.
How it works
You have the opportunity to buy affordable protection that may provide you with a weekly benefit once your claim is approved. This benefit is paid if you are absent from work while insured as a result of either a job-related or non-job-related injury or illness. You may think that you are still young and you don't need insurance. Many insurance claims are sports related injuries that younger adults experience.
Important Fact: Over 50% of Americans don't have enough savings to cover three (3) months of living expenses if they're not earning an income.
Coverage amount
You choose the benefit option that best fits your needs. Your Short-Term Disability benefit payments are not subject to federal income tax and will not be reduced by other income even though you may be entitled to sick leave or have other insurance coverage.
26-week plan rates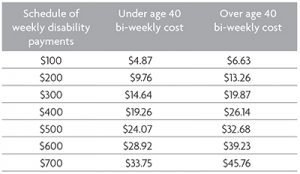 Important points to consider
Get a weekly check—after your claim is approved—that replaces a portion of your income while you recover from a covered disability.
Disability benefits are payable for a covered disability on the first day for accidental bodily injury and on the eighth day for sickness. You must be under the care of a legally qualified physician.
Benefits are not payable for disabilities caused by, contributed to by, or resulting from a pre-existing condition for the first twelve (12) months (six (6) months for members 65 and older) following the effective date of insurance or an increase in insurance. A pre-existing condition is one for which an insured has received medical treatment, consultation, care, or services, including diagnostic measures or prescribed drugs or medicine, within the three (3) months prior to his or her effective date of insurance or increase in insurance. Please refer to your certificate for additional details.
Receive a weekly check for up to 26 weeks—as long as you are still unable to work due to a covered disability.
Provide your survivors with a lump sum benefit if your death occurs while you are eligible to receive a weekly benefit and your Total Disability has continued for fourteen (14) consecutive days.
Exclusions
No Short-Term Disability benefit is payable for any Total Disability that is due to:
intentionally self-inflicted injuries;
a war, declared or undeclared, or any act of war;
your active participation in a riot or insurrection;
or your participation in a felony.
Termination
Your insurance will terminate on the earliest of:
the date the Group insurance Policy terminates,
the date the Group insurance Policy no longer insures your class,
the date the premium payment is due, but not paid by the PEF Membership Benefits Program,
the date on which you cease to be in an eligible class, including:

temporary layoff,
leave of absence, including but not limited to leave for military service, or
the date your PEF membership ceases, or

the date you retire.
To learn more about Short-Term Disability insurance, call the PEF Membership Benefits Program at (518) 785-1900, or (800) 342-4306, ext. 243, opt. 2.
STD Brochure
View Cristie's Sun Life story.
How to Enroll Online or Increase Existing Coverage
Enrolling in insurance for the first time, or increasing your existing coverage is quick and easy with the online insurance enrollment form.  The form is automatically programed to allow you to enroll in the levels for which you qualify, whether you are enrolling for the first time or you are increasing your current coverage. Please note the following:
For new employees on the job less than 240 days
If you are a new employee (on the job less than 240 days) in the PS&T (Professional, Scientific & Technical) unit, you may enroll with no medical questions asked1 up to the $400 weekly benefit level. If we do not receive your insurance application(s) within 240 days of your date of hire with the PS&T Unit, you can still enroll in the insurances, but you will need to also complete a Medical Questionnaire/Evidence of Insurability form.
Current, active employees (on the job more than 240 days) in the PS&T unit
If on the job more than 240 days, you must complete the short-term disability form as well as an Evidence of Insurability form.
You must join PEF before you can enroll in any one or more insurances.
Begin your enrollment or increase your existing coverage
Please use the button below.
Make sure you are signed into the website with your MIN. If you are not signed in, you will not see the Enroll/Increase Coverage button.
You will not be able to successfully submit your form until all the required information is completed.
When an Evidence of Insurability Form (EOI) is Needed
1. If you did not elect insurance in your first 240 days of employment with the PS&T unit.
2. If you are increasing coverage on an existing insurance policy.
3. If a PEF MBP representative requests that you complete an EOI form
For more information: Call the PEF Membership Benefits Program at (518) 785-1900, ext. 243, opt. 2, or (800) 342-4306, ext. 243, opt. 2. You may also email PEF Membership Benefits Program.
Footnotes, Additional Details & Disclaimers