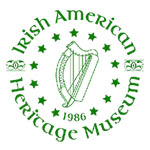 21 Quackenbush Square, Albany, NY 12207
(518) 427-1916
About Irish American Heritage Museum
The mission of the Irish American Heritage Museum is to preserve and tell the story of the contributions of the Irish people and their culture in America, inspiring individuals to examine the importance of their own heritage as part of the American cultural mosaic. The museum is unique in America, where almost 36 million individuals claim Irish ancestry. It is committed to the basic tenet that preserving one's heritage is vital to providing a cultural and historical foundation to future generations of Americans.
The museum provides year-round access to their exhibits, the Paul O'Dwyer Library, lectures, presentations, film screenings, book signings and other special programs.
About Irish American Heritage Museum
About Irish American Heritage Museum Discount
PEF members receive a $15 discount off of the Family Membership (regular family price is $75).
Receive all benefits of Individual Level Membership for your family, including:
Unlimited admission to museum and library
Discounts on special workshops/classes
Access to the museum's e-newsletter
Member-only emails
10% museum shop discount
20% holiday double discount week for museum shop, PLUS
Participation in the Empire State Reciprocal Program (Free admission to 20+ museums in New York State!)
Additional Ticket Details & Disclaimers