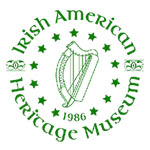 21 Quackenbush Square, Albany, NY 12207
(518) 427-1916
About Irish American Heritage Museum
The Irish American Heritage Museum is a permanently chartered 501(c)3 non-profit with an educational mission. The Irish American Heritage Museum explores the contributions, history, and culture of Irish people in America; and fosters dialogue and exchange between America and Ireland today.
Through both a permanent collection and a series of changing exhibitions, the Museum displays artifacts, recounts first-person stories, and explores the history of a variety of Irish immigrants and individuals with Irish heritage, from U.S. presidents and cultural icons to nameless soldiers and factory workers. The collection includes artifacts belonging to Irish American organizations, historic costumes, devotional items, and music recordings. The permanent galleries of the Museum include full-size reconstructions of an Irish cottage and a tenement apartment, supported by an Emigrant Support Programme grant from the Department of Foreign Affairs, and a scale model of a workhouse.
About Irish American Heritage Museum
Please visit the Irish American Heritage website prior to your trip for any Operational and Health & Safety Guidelines that may impact your experience. Guidelines are subject to change at any time.
Program Features
PEF members and retirees receive a $15 discount off of the Family Membership which includes two adults and all household children. (Regular family membership price is $75.)
All family members receive all the benefits associated with the Individual Membership, including:
Unlimited admission to the museum and library
Discounts on special workshops/classes
Access to the members-only e-newsletter
10% museum shop discount
Participation in the Empire State Reciprocal Program (Free admission to 20 museums in New York State!)
Additional Ticket Details & Disclaimers