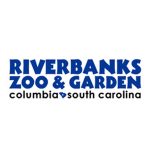 500 Wildlife Pkwy, Columbia, SC 29210
(803) 779-8717
Active, dues-paying PEF members and retirees can take advantage of the many special discounts and ticket offers made available through the PEF Membership Benefits Program and MemberDeals.com.
About RiverBanks Zoo and Garden (MemberDeals*)
Riverbanks Zoo and Garden offers a world-class recreational and educational experience for the entire family. The zoo is home to more than 3,000 animals and represents more than 350 species from around the world that reside in natural habitat exhibits featuring psychological barriers such as moats, water, and light that create an environment free of bars and cages. Riverbanks' 70-acre Botanical Garden features scenic views of the Saluda River, wooded trails, historic ruins, Waterfall Junction children's garden, and a spectacular walled garden. Dramatic and themed gardens showcase more than 4,200 species of native and exotic plants, providing a living classroom for gardeners and non-gardeners alike. Riverbanks welcomes one-million guests annually.
About RiverBanks Zoo and Garden
Please visit the RiverBanks Zoo and Garden website prior to your trip for any Operational and Health & Safety Guidelines that may impact your experience. Guidelines are subject to change at anytime.
About RiverBanks Zoo and Garden
The discounts are provided by MemberDeals.com. Be sure to read the Important Information associated with the ticket offers. Instructions will be provided on the ticket upon purchase. View and purchase tickets via the button below.
Buy now
Additional Ticket Details & Disclaimers