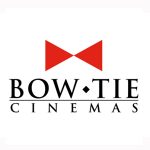 View Bow Tie website for location listings
About Bow Tie Cinemas
Bow Tie Cinemas is a four generation family-owned company, dedicated to "Bringing Style and Elegance Back to the Movie Going Experience". In each of its 50 locations and close to 400 screens, Bow Tie Cinemas provides the best possible presentation and service to its patrons, continuing in the tradition of its founder.
About Bow Tie Cinemas
About Bow Tie Cinemas Tickets
Admission tickets: $6.50
Tickets have no expiration dates. Valid for one (1) admission at any Bow Tie Cinema. Ticket must be exchanged at the box office. Surcharge applies at box office for all 3D movies and BTX movies. Valid one (1) time only. No cash value.
Additional Ticket Details & Disclaimers
Purchase Tickets
Physical Ticket(s)