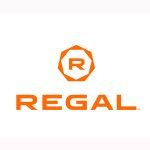 View website for locations
About Regal
Regal operates several theater brands including Regal, United Artists, Edwards, Great Escape Theatres and Hollywood Theaters. The multi-screen theatre complexes typically contain 10 to 18 screens, each with auditoriums ranging from 100 to 500 seats. The company's theatres feature amenities, such as immersive sound, wall-to-wall and floor-to-ceiling screens, Sony Digital Cinema 4K projection systems, three-dimensional (3D) digital projection systems, IMAX and its large screen format, RPX, digital stereo surround-sound and interiors featuring video game and party room areas adjacent to the theatre lobby.
About Regal
Review operational guidelines
About Regal Gift Cards
Regal gift cards are redeemable for admission or concession purchases. Gift cards are not valid for special events, private screenings or group sales ticket purchases.
$10 gift card—Discounted Price: $9.20
$25 gift card—Discounted Price: $23
Additional Ticket Details & Disclaimers
Purchase Gift Cards
Gift Card(s)