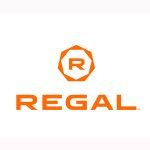 View Regal website for location listings
About Regal
Regal operates several theater brands including Regal, United Artists, Edwards, Great Escape Theatres, and Hollywood Theaters. The multi-screen theatre complexes typically contain 10 to 18 screens, each with auditoriums ranging from 100 to 500 seats. The company's theatres feature amenities, such as immersive sound, wall-to-wall and floor-to-ceiling screens, Sony Digital Cinema 4K projection systems, three-dimensional (3D) digital projection systems, IMAX and its large screen format, RPX, digital stereo surround-sound, and interiors featuring video game and party room areas adjacent to the theatre lobby.
About Regal
PLEASE NOTE: PEF MBP will not be responsible for providing a refund due to vendor or state COVID-19 guidelines and restrictions. Please visit the Regals website prior to your movie for updated information that may impact your experience. Information is subject to change at any time.
About Regal Tickets
High Market Premier admission e-tickets: $8.50
Tickets are valid for one (1) regular admission. Tickets do not expire.
Low Market Premier admission physical tickets: $7.50
Tickets are valid for one (1) regular admission. Premiere Tickets redeemed in California, New Jersey, and New York are subject to a $1.50 surcharge. Check with your local theatre to find the exact rate. Tickets do not expire.
Additional Ticket Details & Disclaimers
About e-tickets:
E-tickets will be emailed to you to print out yourself (no physical ticket is mailed).

Once you place your order, you will receive a confirmation email followed by an email containing your e-ticket which you can then print yourself and take to the venue. E-tickets print on one sheet of paper for each ticket purchased. To prevent e-ticket email delivery issues, please add us to your email address book.
If you plan to purchase for use over a weekend, PEF MBP strongly recommends that you purchase your tickets prior to Wednesday at 5 p.m. (Allowing for 48-hour delivery is best.)
After Friday at 5 p.m., if you have a problem purchasing your e-tickets, or you do not receive your e-tickets in your inbox, there is no one on staff to assist you until Monday at 9 a.m.
Once your tickets are purchased and sent via email, PEF MBP is no longer in control of your e-ticket delivery and cannot control how long it may take for your e-tickets to arrive in your inbox.
PEF MBP has no control over weekday or weekend weather occurrences that may impact internet connectivity, e-store/website functionality/access, and e-ticket purchase/delivery processes.
E-ticket FAQs
Purchase Tickets
E-Ticket(s)
Physical Ticket(s)