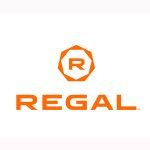 View Regal website for location listings
About Regal
Regal operates several theater brands including Regal, United Artists, Edwards, Great Escape Theatres and Hollywood Theaters. The multi-screen theatre complexes typically contain 10 to 18 screens, each with auditoriums ranging from 100 to 500 seats. The company's theatres feature amenities, such as immersive sound, wall-to-wall and floor-to-ceiling screens, Sony Digital Cinema 4K projection systems, three-dimensional (3D) digital projection systems, IMAX and its large screen format, RPX, digital stereo surround-sound and interiors featuring video game and party room areas adjacent to the theatre lobby.
About Regal
Review operational guidelines
About Regal Tickets and Gift Cards
Admission tickets: $7.50
Tickets are valid for one (1) regular admission. Tickets do not expire.
Gift Cards
$10 physical gift card—Discounted price: $9.20
$25 physical gift card—Discounted price: $23
Regal gift cards are redeemable for admission or concession purchases. Gift cards are not valid for special events, private screenings, or group sales ticket purchases.
Additional Ticket Details & Disclaimers
About e-tickets:
E-tickets will be emailed to you to print out yourself (no physical ticket is mailed).

Once you place your order, you will receive a confirmation email followed by an email containing your e-ticket which you can then print yourself and take to the venue. E-tickets print on one sheet of paper for each ticket purchased. To prevent e-ticket email delivery issues, please add us to your email address book.
If you plan to purchase for use over a weekend, PEF MBP strongly recommends that you purchase your tickets prior to Friday at 5 p.m. (Allowing for 48-hour delivery is best.)
After Friday at 5 p.m., if you have a problem purchasing your e-tickets, or you do not receive your e-tickets in your inbox, there is no one on staff to assist you until Monday at 9 a.m.
Once your tickets are purchased and sent via email, PEF MBP is no longer in control of your e-ticket delivery and cannot control how long it may take for your e-tickets to arrive in your inbox.
PEF MBP has no control over weekday or weekend weather occurrences that may impact internet connectivity, e-store/website functionality/access, and e-ticket purchase/delivery processes.
E-ticket FAQs
Purchase Tickets or Gift Cards
E-Ticket(s)
Physical Ticket(s)
Gift Card(s)