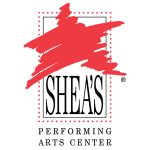 650 Main St, Buffalo, NY 14202
(716) 847-1410
About Shea's Performing Arts Center
Shea's Performing Arts Center started out in 1926 as a movie theater built by Michael Shea. To save the theater from demolition, a group of concerned people formed The Friends of Buffalo Theatre. This not-for-profit organization worked to bring about a preliminary restoration and was responsible for getting Shea's listed on the National Register for Historic Places. Over the past 20 years, there has been over $30 million in restoration completed, all by volunteers, at Shea's which allows Buffalo to keep the only surviving Tiffany designed theater in magnificent condition for our patrons and the community. Today, Shea's is a campus comprised of three theaters in the Buffalo Theatre District. The intent is to bring the best of live performances to Western New York.
About Shea's Performing Arts Center
While many renovations have taken place at Shea's Performing Art Center, as a historic site, accessibility may be a concern for members and retirees with disabilities. Shea's is not ADA compliant. View the theater's seating chart to identify seating sections with wheelchair accessibility prior to purchasing tickets. Please be aware that restrooms are located on the second floor of the theater. For wheelchair access and those needing assistance to Shea's Buffalo, guests should use the Theatre Place entrance. Call the box office at (716) 847-0850 to purchase tickets for seating with wheelchair accessibility. Plan a visit.
Shea's Performing Arts Center's Operational and Health & Safety Guidelines
Please review the Operational and Health & Safety Guidelines prior to your performance for current guidelines that may impact your experience. Guidelines are subject to change at anytime.
PLEASE NOTE: PEF MBP will not be responsible for providing a refund due to vendor or state COVID-19 guidelines and restrictions.
PEF MBP Special Events