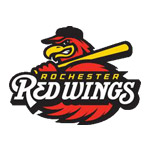 Innovative Field, One Morrie Silver Way, Rochester, NY 14608
(585) 454-1001
About the Rochester Red Wings
The Rochester Red Wings are a Minor League Baseball team of the International League and the Triple-A affiliate of the Washington Nationals. They are located in Rochester, New York, and play their home games at Innovative Field, located in downtown Rochester. They were founded in 1899, and are the oldest continuously operating sports franchise in North America below the major league level.
About Rochester Red Wings
Please visit the Rochester Red Wings website prior to the game for current Operational and Health & Safety Guidelines that may impact your experience. Guidelines are subject to change at anytime.
PLEASE NOTE: PEF MBP will not be responsible for providing a refund due to vendor or state COVID-19 guidelines and restrictions.
About the Rochester Red Wings 2023 Ticket
Ticket sales have ended. Please check back next season.
Additional Ticket Details & Disclaimers
Purchase Tickets
Physical Ticket(s)