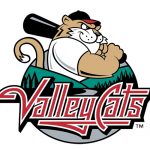 80 Vandenburgh Avenue, Troy, NY 12180
(518) 629-2287
About the Tri-City ValleyCats
The Tri-City ValleyCats are a minor league baseball team based in Troy, New York. With over 90 former ValleyCats reaching Major League Baseball, 8 division titles, 3 New York-Penn League championships, and a history of solid and loyal fan support, the team has a consistent track record of success both on the field and in the stands. The ValleyCats have a longstanding tradition with a home game on July 4th followed by fireworks. The Joseph L. Bruno Stadium ("The Joe"), built on the Hudson Valley Community College campus in 2001, continues to be "home" for the Tri-City ValleyCats.
About Tri-City Valley Cats
Please visit the Tri-City ValleyCats website prior to your game for current Operational and Health & Safety Guidelines that may impact your experience. Guidelines are subject to change at anytime.
PLEASE NOTE: PEF MBP will not be responsible for providing a refund due to vendor or state COVID-19 guidelines and restrictions. All sales are final.
About Tri-City ValleyCats 2023 Tickets
Premium Box Seat Vouchers: $7
Vouchers are good for all ages and games, including playoffs.
The Premium Box Seat Vouchers you purchase from the PEF Membership Benefits Program can be redeemed at the box office, over the phone, or online for Premium Box Tickets (pending availability). If redeeming your voucher online, each voucher code must be individually entered as a Promotion Code. Children 3 years of age and younger enter for free.
Online redemption process:
Select the tickets of your choice and add to your cart.
Once in your cart, enter the Voucher Code as a Promo Code and click "Apply".
For each voucher and corresponding Promo Code, a ticket will be reduced to $0.00.
Once all vouchers and corresponding Promo Codes are entered, you may proceed to checkout.
Orders completed online may still be subject to service fees.
Additional Ticket Details & Disclaimers
Tickets available for purchase through 8/30/23. Ticket supplies are limited and availability is not guaranteed. Operating schedules are subject to change at any time. Please check the vendor website for operating schedule. All sales are final. The PEF Membership Benefits Program cannot be responsible for lost, stolen, damaged, expired, or used without permission tickets. No refunds or exchanges, which includes unused tickets and e-tickets.
About e-tickets:
E-tickets will be emailed to you to print out yourself (no physical ticket is mailed).
Once you place your order, you will receive a confirmation email followed by an email containing your e-ticket which you can then print yourself and take to the venue. E-tickets print on one sheet of paper for each ticket purchased. To prevent e-ticket email delivery issues, please add etickets@pef.org to your email address book.
After Friday at 5 p.m., there is no one on staff to assist you until Monday at 9 a.m.
Once your tickets are purchased and sent via email, PEF MBP is no longer in control of your e-ticket delivery and cannot control how long it may take for your e-tickets to arrive in your inbox.
PEF MBP has no control over weekday or weekend weather occurrences that may impact internet connectivity, e-store/website functionality/access, and e-ticket purchase/delivery processes.
E-ticket FAQs
Purchase Tickets
E-Ticket(s)
Physical Ticket(s)