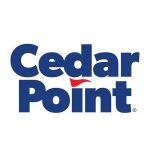 1 Cedar Point Drive, Sandusky, OH 44870
(419) 627-2350
Active, dues-paying PEF members and retirees can take advantage of the many special discounts and ticket offers made available through the PEF Membership Benefits Program and MemberDeals.com.
About Cedar Point Amusement Park (MemberDeals*)
If you're looking for things to do near Cleveland, Cedar Point, located in Sandusky, Ohio, is the must-do destination. It's home to 70 amazing rides, from the family-friendly Snake River Expedition to the adrenaline-pumping roller coasters like Steel Vengeance and Millennium Force. Live shows, immersive dining, and signature summer events add diverse layers to the experience. The amusement park has a little bit of something for every thrill-seeker. You can also find summer splashes right next door at the Cedar Point Shores Waterpark with its multiple water gadgets, pools for little ones, and slides for the whole family.
About Cedar Point
Cedar Point's Operational and Health & Safety Guidelines
Please visit the Cedar Point website prior to your trip for any Operational and Health & Safety Guidelines that may impact your experience. Guidelines are subject to change at anytime.
About Cedar Point Amusement Park 2023 Tickets
Check back for 2023 ticket details.
Additional Ticket Details & Disclaimers