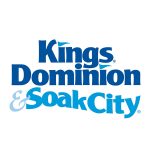 16000 Theme Park Way, Doswell, VA 23047
(804) 876-5000
Active, dues-paying PEF members and retirees can take advantage of the many special discounts and ticket offers made available through the PEF Membership Benefits Program and MemberDeals.com.
About Kings Dominion & Soak City (MemberDeals*)
Unforgettable adventures await at Kings Dominion, home to some of the best things to do around Richmond, Virginia. With more than 60 rides, shows, attractions, a kids area, and a waterpark, Kings Dominion has amazing fun for everyone including the Jungle X-pedition, an immersive x-perience x-ploring an ancient jungle civilization. Take a wild, tumbling ride on Tumbili, Virginia's first 4D spin coaster. Find more thrills at the ginormous collection of roller coasters—among the East Coast's largest at 13—including Intimidator 305®. Little ones can get their own thrills at Planet Snoopy, featuring the entire PEANUTS™ gang.
Soak up the sun at Soak City, their 20-acre waterpark included with admission. Have a splashtastic blast with water slides, splash pads, a wave pool, a lazy river, cabanas, and more! Coconut Shores within Soak City offers a mini-wave pool, 45-foot multi-level play structure, and unique dining.
About Kings Dominion & Soak City
Please visit the Kings Dominion & Soak City website prior to your trip for any Operational and Health & Safety Guidelines that may impact your experience. Guidelines are subject to change at anytime.
About the Kings Dominion 2023 Ticket
The discounts are provided by MemberDeals.com. Instructions will be provided on the ticket upon purchase. View and purchase tickets via the button below.
Buy now
Additional Ticket Details & Disclaimers