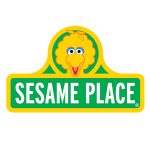 100 Sesame Road, Langhorne, PA 19047
(215) 702-3566
Sesame Place Discounts (MemberDeals*)
Active, dues-paying PEF members and retirees can take advantage of the many special discounts and ticket offers made available through the PEF Membership Benefits Program and MemberDeals.com.
Enjoy festive shows and a Neighborhood Party Street Parade starring your favorite Sesame Street® friends! So go before they grow® to the nation's only theme park based entirely on Sesame Street.
About Sesame Place
Sesame Place's Operational and Health & Safety Information
Please visit the Sesame Place website prior to your visit for any Operational and Health & Safety Guidelines that may be enacted at any time due to COVID restrictions.
About Sesame Place Tickets
The discounts are provided by MemberDeals.com. Instructions will be provided on the ticket upon purchase. View and purchase tickets via the button below.
Buy Now
Additional Ticket Details & Disclaimers