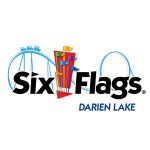 9993 Allegheny Road, Corfu, NY 14040
(585) 599-4641
About Six Flags Darien Lake
Located 45 minutes from Niagara Falls between Buffalo and Rochester, NY, the park boasts more than 50 rides, including seven world-class roller coasters, dozens of family rides, the region's largest water park, and a 20,000-seat amphitheater operated by Live Nation. The Laser Light Summerfest features an all-new Laser Light spectacular show that will begin at dusk and is available certain operating days Wednesday-Sunday and is included with your park admission. Before the show, visit the all-new Magical Garden, with luminescent landscape features and 20 dynamic 3-dimensional light creatures in Darien Square. It's a perfect way to end the night.
About Six Flags Darien Lake
Please visit the Six Flags Darien Lake website prior to your trip for any Operational and Health & Safety Guidelines that may impact your experience. Guidelines are subject to change at any time.
PLEASE NOTE: PEF MBP will not be responsible for providing a refund due to vendor or state COVID-19 guidelines and restrictions.
About Darien Lake Tickets
Good any day tickets: $26
Tickets are valid for one (1) day admission for individuals 3 years of age and older. Children 2 years of age and younger are free.
Mega meal tickets: $22.67
This ticket DOES NOT include admission. A mega meal deal must be redeemed in its entirety, the day of your visit. The mega meal deal comes with one (1) meal, one (1) snack, and a drink voucher—redeemable at any food location in the park.
Parking tickets: $21.60
Tickets valid for one (1) day parking at Six Flags Darien Lake.
Additional Ticket Details & Disclaimers
About e-tickets:
E-tickets will be emailed to you to print out yourself (no physical ticket is mailed).
Once you place your order, you will receive a confirmation email followed by an email containing your e-ticket which you can then print yourself and take to the venue. E-tickets print on one sheet of paper for each ticket purchased. To prevent e-ticket email delivery issues, please add etickets@pef.org to your email address book.
If you plan to purchase for use over a weekend, PEF MBP recommends that you purchase your tickets prior to Wednesday at 5 p.m. (Allow for 48-hour delivery.)
After Friday at 5 p.m., there is no one on staff to assist you until Monday at 9 a.m.
Once your tickets are purchased and sent via email, PEF MBP is no longer in control of your e-ticket delivery and cannot control how long it may take for your e-tickets to arrive.
PEF MBP has no control over weekday or weekend weather occurrences that may impact internet connectivity, e-store/website functionality/access, and e-ticket purchase/delivery processes.
E-ticket FAQs
Purchase Tickets
E-Ticket(s)