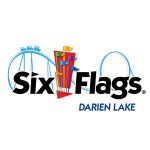 9993 Allegheny Road, Darien Center, NY 14040
(585) 599-4641
About Six Flags Darien Lake
With over 45 rides and attractions, including soaring roller coasters and enchanting children's rides for families with young children, live entertainment, classic dining options, and special events like Fright Fest, there's always something new and exciting happening in the park! Six Flags Darien Lake's wide variety of entertainment and top-notch thrill rides has made it the Coaster Capital of New York since 1964. Located 45 minutes from Niagara Falls between Buffalo and Rochester, NY, the park boasts more than 50 rides, including seven world-class roller coasters, dozens of family rides, the region's largest water park, and a 20,000-seat amphitheater operated by Live Nation.
About Six Flags Darien Lake
View 2021 Operational Information & Safety Protocols
The 2021 operational information includes COVID-19 guidelines and restrictions you should be aware of prior to purchasing your ticket(s). It is also encouraged that you check state and travel guidelines as restrictions could impact your ticket purchase.
PLEASE NOTE: PEF MBP will not be responsible for providing a refund due to vendor or state COVID-19 guidelines and restrictions. All sales are final.
About Darien Lake Tickets
Tickets are valid for one (1) day admission and free parking. Children 2 years of age and younger are free.
Additional Ticket Details & Disclaimers
About e-tickets:
Once you place your order, you will receive a confirmation email followed by an email containing your e-ticket which you can then print yourself and take to the venue. E-tickets print on one sheet of paper for each ticket purchased. To prevent e-ticket email delivery issues, please add etickets@pef.org to your email address book.
If you plan to purchase for use over a weekend, PEF MBP recommends that you purchase your tickets prior to Friday at 5 p.m. (Allow for 48-hour delivery.)
After Friday at 5 p.m., there is no one on staff to assist you until Monday at 9 a.m.
Once your tickets are purchased and sent via email, PEF MBP is no longer in control of your e-ticket delivery and cannot control how long it may take for your e-tickets to arrive.
PEF MBP has no control over weekday or weekend weather occurrences that may impact internet connectivity, e-store/website functionality/access, and e-ticket purchase/delivery processes.
E-ticket FAQs
Purchase Tickets
E-Ticket(s)
Physical Ticket(s)