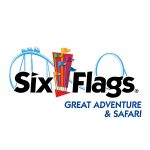 1 Six Flags Blvd., Jackson, NJ 08527
(732) 928-2000
About Six Flags Great Adventure
The world's tallest, fastest and longest single rail coaster, Jersey Devil Coaster, will be making its debut this season. With three intense inversions, inline style trains, and five extreme elements, this ride is sure to get your adrenaline pumping!
With so many choices, where do you begin? Take a look at all the amazing things to do while at Six Flags Great Adventure—from pulse-pounding roller coasters to gentler options for tots. Take a break at one of their entertaining shows and catch a bite at one of their restaurants. Don't forget to pick up your souvenirs so you can remember the day! There's always something new at Six Flags Great Adventure!
About Six Flags Great Adventure
View 2021 Operational Information
The 2021 operational information includes COVID-19 guidelines and restrictions you should be aware of prior to purchasing your ticket(s).  The health and safety of all Six Flags Great Adventure guests is a top priority. The Six Flags Re-Opening Plan was developed in coordination with expert epidemiologists and is designed to protect Six Flags guests and team members from potential exposure to COVID-19. Anyone purchasing a Six Flags Great Adventure ticket must read the safety protocols. It is also encouraged that you check state and travel guidelines as restrictions could impact your ticket purchase.
PLEASE NOTE: PEF MBP will not be responsible for providing a refund due to vendor COVID-19 guidelines and restrictions. All sales are final.
Also available from PEF MBP:
Hurricane Harbor
About Six Flags Great Adventure Tickets
Good any day tickets
Tickets are valid for one (1) day admission to Six Flags Great Adventure only (Safari is not included for the 2021 season). Children 2 years of age and younger are free
Important Notice: The Wild Safari is not part of the ticket offering for the 2021 season. The Safari is operating as a drive-thru adventure (with your own car) beginning March 27, 2021. You may purchase tickets separately online at Safari Off Road Adventure or at the main gate for as low as $19.99 each. Currently tickets may be purchased from March 27 through July 4, 2021.
Parking tickets
Tickets are valid for parking for one (1) vehicle, for one (1) day, only at Six Flags Great Adventure.
Additional Ticket Details & Disclaimers
About e-tickets:
Once you place your order, you will receive a confirmation email followed by an email containing your e-ticket which you can then print yourself and take to the venue. E-tickets print on one sheet of paper for each ticket purchased. To prevent e-ticket email delivery issues, please add etickets@pef.org to your email address book.
If you plan to purchase for use over a weekend, PEF MBP recommends that you purchase your tickets prior to Friday at 5 p.m. (Allow for 48-hour delivery.)
After Friday at 5 p.m., there is no one on staff to assist you until Monday at 9 a.m.
Once your tickets are purchased and sent via email, PEF MBP is no longer in control of your e-ticket delivery and cannot control how long it may take for your e-tickets to arrive.
PEF MBP has no control over weekday or weekend weather occurrences that may impact internet connectivity, e-store/website functionality/access, and e-ticket purchase/delivery processes.
E-ticket FAQs
Purchase Tickets
E-Ticket(s)
Physical Ticket(s)