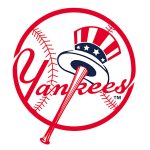 One East 161st Street, Bronx, NY 10451
(646) 977-8060
About the Ticket Process
Your tickets are not physical tickets as the ballpark is not printing tickets. The process for accessing your game tickets is outlined below.
Once you purchase your ticket(s) from PEF MBP, you will receive an email confirming your e-ticket/mobile ticket purchase. This confirmation email serves only to confirm your order and does not provide access to your mobile tickets.
Approximately 2 weeks to 10 days prior to the game on June 5th, you will receive an email from the New York Yankees that provides you with a link to the MLB Ballpark app that you will need to download on your smart phone to access your tickets.
You will need to create or log in with an MLB account. An MLB account is free and easy to create directly from the MLB Ballpark app or by clicking on the right-most button on the top navigation bar on yankees.com.

Open the MLB Ballpark app on your phone, and log in to an existing MLB account or create a new account with the same email address used to buy your tickets which are being transferred to you from the New York Yankees. Your MLB account will automatically become associated with your Yankees ticket account.
Tap the Profile icon on the top left hand corner of the Home tab, and select "My MLB Account Emails," where you can send or resend a verification email used to purchase tickets.
Click the VERIFY EMAIL link in the email to allow access to your tickets in the MLB Ballpark app.
Find your tickets and food vouchers the day of game on the Home tab or manage all of your tickets in the Wallet on the Tickets tab.
For more information:
New York Yankees Mobile Ticket Delivery
MLB Ballpark—The Official App of Yankee Stadium