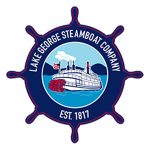 57 Beach Road, Lake George, NY 12845
(518) 668-5777, ext. 4
About Lake George Steamboat
The Minne-Ha-Ha
Cruises aboard the authentic Sternwheel Steamboat, Minne Ha Ha, take you on a tour of Lake George's Southern Basin. Imagine the way people traveled the lake over 100 years ago! Step back in time, as the Calliope, powered by steam from the vessel's boiler, serenades you while you board. Enjoy beautiful views of the Adirondack Mountains and see stately homes along the water's edge. This one hour trip is fun for all ages!
The Mohican Full Lake Cruise
The Mohican Full Lake Cruise offers the only complete tour of Lake George. View the lake's serene beauty from the decks of the oldest, continuously operated, and inspected ship in the USA. Built in 1908, the Mohican has been offering cruises on Lake George for over 100 years! Stunning mountain wilderness areas, islands, historic mansions, and the beauty of the lake itself await. The Captain's narration fully describes the history, geological formation of the basin, and the lake's present ecological balance.
Mohican Paradise Bay Cruise
The Paradise Bay Cruise is one of the more scenic excursions, offering views of lovely lakeside scenery and homes. Absorb the serenity of the Islands of the Narrows and the magnificent Adirondack Mountains. Conditions permitting, the Captain will skillfully maneuver through the channel and into Paradise Bay. Learn about Lake George's points of interest, its history, geology, and ecology.
The Lac du Saint Sacrement (Sightseeing Cruise)
Experience the lake's best views from the upper decks of our flagship Lac du Saint Sacrement. The Midday Sightseeing Cruise will take you north past the Lake George Club to Bolton Landing where you will see the stately Sagamore Hotel. See island campsites, islands with private homes, and Dome Island—a wildlife refuge.
For the 6:30 sightseeing cruise, the buffet meal may be purchased on the day of sailing if space is available*. Prepared fresh daily, the dinner buffet offers 3 hot entrees: chicken, fish, or vegetarian, a carving station, a large salad bar, assorted breads, rolls, cheeses, dessert, and non alcoholic beverages. After dining, relax in your seat, enjoy the entertainment, or head topside to enjoy the fresh air on the outer decks. Cruise by beautiful mountain wilderness areas on the crystal clear waters of Lake George while enjoying the Adirondack Sunset.
About Lake George Steamboat
Lake George Steamboat's Operational and Health & Safety Guidelines
Please visit the Lake George Steamboat website prior to your trip for any Operational and Health & Safety Guidelines that may impact your experience. Guidelines are subject to change at any time.
About Lake George Steamboat 2023 Discounts
Check back for 2023 ticket details.
PEF members and retirees can show their PEF ID card and receive discounts on these cruises for the 2023 season.
Prices are good for the PEF member and 3 additional people.
PEF ID card must be shown at time of ticket purchase.
PEF members should check the schedule on their website, as the boats may be chartered and not on their regular schedule