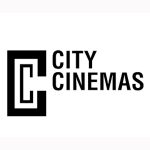 View City Cinemas website for location listings
About City Cinemas
City Cinemas, a branch of Reading International, shows a mixture of Hollywood productions and indie films. The main auditorium seats 1,200, and there are four small screening rooms in the basement, each seating under 200 people, and two other screens in the former backstage area.
About City Cinemas
About City Cinemas Tickets
Admission tickets: $7.50
This ticket is valid for one (1) regular admission. Ticket cannot be used during the first two weeks of a first run engagement or for motion pictures where prohibited by contractual obligation. City Cinemas tickets are also valid at all Reading Cinemas and Angelika Film Center & Cafe locations. Tickets do not expire.
Additional Ticket Details & Disclaimers
Purchase Tickets
Physical Ticket(s)