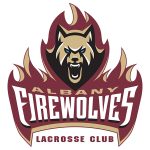 51 S. Pearl St, Albany, NY 12205
(518) 362-4900
About Albany FireWolves
The Albany FireWolves are a professional box lacrosse team based in Albany, New York. They are members of the East Division of the National Lacrosse League that began play in the 2021-22 season at the MVP Arena.
About Albany FireWolves
MVP Arena Accessibility
Please visit the MVP Arena website prior to the game for any Operational and Health & Safety Guidelines that may impact your experience. Guidelines are subject to change at any time.
PLEASE NOTE: PEF MBP will not be responsible for providing a refund due to vendor or state COVID-19 guidelines and restrictions.
About the Albany FireWolves 2023 Voucher
Any game e-voucher: $16
E-vouchers are valid for one (1) admission to any regular 2022-23 season and post-season games. E-vouchers must be purchased through PEF MBP by clicking the Purchase Ticket icon at the base of this page. Once you have purchased your e-voucher through PEF MBP, you will receive your e-voucher via email. Redeem your e-voucher for an actual ticket via the process below.
You may redeem your e-voucher for an admission ticket, one of three ways:
In person at the MVP Arena box office,
By calling (518) 362-4900,
Or by going online.
If redeeming online:
Click the button below.
Enter your name, contact information, and game date.
Select the number of e-vouchers you are redeeming.
Add the barcode from each e-voucher.
Complete your transaction.
Redeem now
Additional Ticket Details & Disclaimers
About e-vouchers:
E-vouchers will be emailed to you to print out yourself (no physical ticket is mailed).

Once you place your order, you will receive a confirmation email followed by an email containing your e-voucher. E-vouchers print on one sheet of paper for each ticket purchased. To prevent delivery issues, please add etickets@pef.org to your email address book.
If you plan to purchase for use over a weekend, PEF MBP recommends that you purchase your e-vouchers prior to Wednesday at 5 p.m. (Allow for 48-hour delivery.)
After Friday at 5 p.m., there is no one on staff to assist you until Monday at 9 a.m.
Once your e-vouchers are purchased and sent via email, PEF MBP is no longer in control of your e-voucher delivery and cannot control how long it may take for your e-vouchers to arrive in your inbox.
PEF MBP has no control over weekday or weekend weather occurrences that may impact internet connectivity, e-store/website functionality/access, and e-ticket/e-voucher purchase/delivery processes.
E-ticket FAQs
Purchase Tickets
E-Ticket(s)