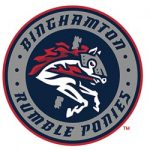 211 Henry Street, Binghamton, NY 13901
(607) 722-3866
About the Binghamton Rumble Ponies
The Binghamton Rumble Ponies are an American Minor League Baseball team based in Binghamton, New York. The team plays in the Eastern League and is the Double-A affiliate of the New York Mets. The Rumble Ponies play their home games at Mirabito Stadium.
About Binghamton Rumble Ponies
Please visit the Binghamton Rumble Ponies website prior to your visit for any Operational and Health & Safety Guidelines that may be enacted at any time due to COVID restrictions.
PLEASE NOTE: PEF MBP will not be responsible for providing a refund due to vendor or state COVID-19 guidelines and restrictions
About the 2022 Binghamton Rumble Ponies Offer
The 2022 offer is not currently available. Please check back soon.