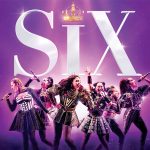 646 Main Street, Buffalo, NY 14202
(716) 847-1410
SIX
Divorced, beheaded, died, divorced, beheaded, survived.
From Tudor Queens to Pop Princesses, the SIX wives of Henry VIII take the mic to remix five hundred years of historical heartbreak into an exuberant celebration of 21st century girl power! This original musical is the global sensation that everyone is losing their head over. The New York Times says SIX "TOTALLY RULES!" (Critic's Pick) and the Washington Post hails SIX as "Exactly the kind of energizing, inspirational illumination this town aches for! The Broadway season got supercharged!"
Enjoy this Study Guide with information about the musical and its creation.
Download now
Date: Thursday, May 4, 2023
Time: 7:30 p.m.
Ticket Price: $62
Location: Shea's Performing Arts Center, 646 Main Street, Buffalo, NY 14202
Seating: Orchestra
Limited tickets available. Ticket sales end on 4/16/23 or when tickets sell out, whichever comes first.
PLEASE NOTE: Your seats will not be assigned nor available until approximately 3 weeks prior to the performance date. There is no guarantee that the seats you purchase for your party will be together.
About Shea's Performing Arts Center
While many renovations have taken place at Shea's Performing Art Center, as a historic site, accessibility may be a concern for members and retirees with disabilities. Shea's is not ADA compliant. View the theater's seating chart to identify seating sections with wheelchair accessibility prior to purchasing tickets. Please be aware that restrooms are located on the second floor of the theater. For wheelchair access and those needing assistance to Shea's Buffalo, guests should use the Theatre Place entrance. Call the Box Office at (716) 847-0850 to purchase tickets for seating with wheelchair accessibility. Plan a visit.
Shea's Performing Arts Center Operational and Health & Safety Guidelines
Please visit the Shea's Performing Arts Center website prior to your performance for any Operational and Health & Safety Guidelines that may impact your visit. Guidelines are subject to change at any time.
PLEASE NOTE: PEF MBP will not be responsible for providing a refund due to vendor or state COVID-19 guidelines and restrictions.
About the Ticket Process:
All tickets will be issued electronically via the Shea's app. The process for accessing your show tickets is outlined below.
Once you purchase your ticket(s) from PEF MBP, you will receive an email confirming your e-ticket/mobile ticket purchase. This confirmation email serves only to confirm your order and does not provide access to your mobile tickets.
Approximately 3 weeks prior to the performance, you will receive an email from Shea's that provides you with a link to the Shea's website.
On your phone or computer, visit Shea's and tap the user icon in the upper right corner.
You will need to create or log in with a Shea's account.

Log in using the email address and password associated with your Shea's Account.
Select the menu in the upper left hand corner and click "My Tickets".
Upon sign-in, select your event, and click "View Barcode" to display your ticket.
To view additional seats to the event, swipe left.
For the quickest entry, members are strongly encouraged to add their tickets to their phone's wallet. Apple users should tap the "Add to Apple Wallet" button and Android users should tap the Google Pay "Save to Phone" button.
Your ticket will be scanned at the gate. Screenshots are not valid for entry. Proceed to the gate listed on your ticket the day of the event.
It is recommended that you download your tickets at least 24 hours before the show.
For more information:
Shea's Performing Arts Center Mobile Ticketing
Additional Ticket Details & Disclaimers
Ticket sales end on 4/16/23 or when tickets sell out, whichever comes first. Due to the very limited quantity of tickets available, the maximum number of tickets allowed per member is four (4). Orders are filled on a first come, first served basis. While we strive to keep your seats together, we cannot make any guarantees on seating arrangements. It is suggested that members purchase tickets early for the best possible seating assignments. All sales are final. The PEF Membership Benefits Program cannot be responsible for lost, stolen, damaged, expired, or used without permission ticket. No refunds or exchanges, which includes unused tickets and e-tickets. Absolutely no refunds under any circumstances due to Shea's Performing Arts Center show changes, seating assignments, etc., which are out of the control of PEF MBP.
Purchase Tickets
Ticket(s)