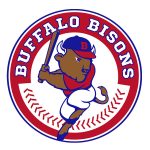 One James D. Griffin Plaza, Buffalo, NY 14203
(716) 846-2000
About the Buffalo Bisons
The Buffalo Bisons are a professional Minor League Baseball team of the International League and Triple-A affiliate of the Toronto Blue Jays. The team plays their home games at Sahlen Field, the highest-capacity Triple-A ballpark in the United States.
About the Buffalo Bisons
Please visit the Buffalo Bisons website prior to the game for any Operational and Health & Safety Guidelines that may impact your experience. Guidelines are subject to change at anytime.
About the Buffalo Bisons 2023 Discount
 Check back for 2023 ticket discount details.
Additional Ticket Details & Disclaimers