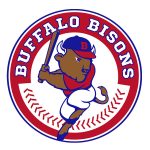 One James D. Griffin Plaza, Buffalo, NY 14203
(716) 846-2000
About the Buffalo Bisons
The Buffalo Bisons are a professional Minor League Baseball team of the International League and Triple-A affiliate of the Toronto Blue Jays. The team plays their home games at Sahlen Field, the highest-capacity Triple-A ballpark in the United States.
About the Buffalo Bisons
Please visit the Buffalo Bisons website prior to your visit for any Operational and Health and Safety Guidelines that may be enacted at any time due to COVID restrictions.
About the Buffalo Bisons Discount
PEF members and retirees can save up to 50% on all 2022 season home games.
Click on the "Buy Now" button below
Select your game of choice
Select your section of choice
Purchase your tickets
PLEASE NOTE: You will receive a follow-up email from Tickets.com with instructions on how to download or print your tickets.
Buy now
Additional Ticket Details & Disclaimers