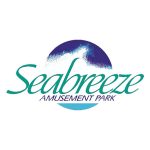 4600 Culver Rd., Rochester, NY 14622
(585) 323-1900
About Seabreeze Amusement Park
Seabreeze Amusement Park features a variety of rides and attractions for all ages; including four roller coasters, thrill rides, live shows, a waterpark, and more. In 2020, the Jack Rabbit celebrated 100 years of thrills, and in 2021 the coaster received a Certificate of Special Congressional Recognition. This classic coaster holds a place of honor in amusement park history, as the oldest continuously operating coaster in America. It's also the first coaster ever to feature under-friction wheels—ushering in a whole new world of taller and steep hills, faster speeds, fun bunny hops and awesome negative g-forces. The Jack Rabbit—truly an original in roller coaster thrills!
About Seabreeze
View 2021 Operational Information
The 2021 operational information includes COVID-19 guidelines and restrictions you should be aware of prior to purchasing your ticket(s). It is also encouraged that you check state and travel guidelines as restrictions could impact your ticket purchase.
About Seabreeze Good Any Day, Ride & Slide Tickets
Tickets are valid for one (1) day admission, any day during the 2021 season, for unlimited rides and slides, for individuals 48″ and taller. Children 2 years of age and younger are free.
Follow the discount ticket order process below to order your tickets for the 2021 season.
To Order
Click the "Buy now" button below
Select Buy Tickets Now
Select One-Day ticket(s)
Click on Ride & Slide ticket
Select date (PLEASE NOTE: you can only reserve tickets up to two (2) weeks in advance)
Add ticket(s) to your cart
Enter exclusive code: PEF
Purchase your discount e-ticket(s)
Check your email for a PDF file containing your tickets
Print your e-ticket(s) prior to arrival or display the electronic confirmation on your cell phone to redeem at any ticket booth
Buy now
Learn about Seabreeze PEF week, August 30-September 5, 2021
Additional Ticket Details & Disclaimers