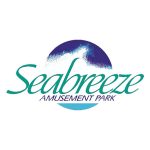 4600 Culver Rd., Rochester, NY 14622
(585) 323-1900
About Seabreeze Amusement Park
Seabreeze Amusement Park features a variety of rides and attractions for all ages; including four roller coasters, thrill rides, live shows, a waterpark, and more. In 2022, the Jack Rabbit is celebrating 102 years of thrills. This classic coaster holds a place of honor in amusement park history, as the oldest continuously operating coaster in America. It's also the first coaster ever to feature under-friction wheels—ushering in a whole new world of taller and steep hills, faster speeds, fun bunny hops and awesome negative g-forces. The Jack Rabbit—truly an original in roller coaster thrills!
About Seabreeze
Seabreeze's Operational and Health & Safety Guidelines
Please visit the Seabreeze website prior to your trip for current Operational and Health & Safety Guidelines that may impact your experience. Guidelines are subject to change at anytime.
PLEASE NOTE: PEF MBP will not be responsible for providing a refund due to vendor or state COVID-19 guidelines and restrictions.
About the Seabreeze 2023 Ticket
Check back for 2023 ticket details.
Additional Ticket Details & Disclaimers
Purchase Tickets
E-Ticket(s)
Special Event E-Tickets