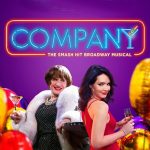 432 State Street, Schenectady, NY 12305
(518) 346-6204
Company
It's Bobbie's 35th birthday party, and all her friends keep asking, Why isn't she married? Why can't she find the right man and isn't it time to settle down and start a family? As Bobbie searches for answers, she discovers why being single, being married, and being alive in 21st-Century New York could drive a person crazy.
Three-time Tony Award-winning director Marianne Elliott (War Horse, The Curious Incident of the Dog in the Night-Time, Angels in America) helms this revelatory new production of Stephen Sondheim and George Furth's groundbreaking musical comedy, at once boldly sophisticated, deeply insightful, and downright hilarious. COMPANY features Sondheim's award-winning songs You Could Drive a Person Crazy, The Ladies Who Lunch, Side by Side by Side, and the iconic Being Alive.
Date: Thursday, October 12, 2023
Time: 8 p.m.
Ticket Price: $46
Location: Proctors Theatre, 432 State Street, Schenectady, NY 12305
Seating: Orchestra
Limited tickets available. Ticket sales end on 9/24/23 or when tickets sell out, whichever comes first.
PLEASE NOTE: Your seats will not be assigned nor available until approximately 3 weeks prior to the performance date. There is no guarantee that the seats you purchase for your party will be together.
Proctors Theatre Accessibility
Proctors Operational and Health & Safety Guidelines
Please visit the Proctors website prior to your performance for any Operational and Health & Safety Guidelines that may impact your experience. Guidelines are subject to change at any time.
PLEASE NOTE: PEF MBP will not be responsible for providing a refund due to vendor or state COVID-19 guidelines and restrictions.
About the Ticket Process
All tickets will be issued electronically via email. The process is outlined below.
Seating assignments will be made once all show tickets have been purchased. While we strive to keep seats together, sometimes that is not possible, however members will be notified in advance if seats are not together.
You will receive your tickets via email directly from PEF MBP no later than 3 weeks prior to the show. To avoid delivery issues, please add mbp@pef.org to your email address book.
You may print your tickets and bring them with you, or show them on your mobile phone at the theatre.
Additional Ticket Details & Disclaimers
Ticket sales end on 9/24/23 or when tickets sell out, whichever comes first. Due to the very limited quantity of tickets available, the maximum number of tickets allowed per member is four (4). Orders are filled on a first-come, first-served basis. While we strive to keep your seats together, we cannot make any guarantees on seating arrangements. It is suggested that members purchase tickets early for the best possible seating assignments. All sales are final. The PEF Membership Benefits Program cannot be responsible for lost, stolen, damaged, expired, or used without permission ticket. No refunds or exchanges, which includes unused tickets and e-tickets. Absolutely no refunds under any circumstances due to Proctors Theatre show changes, seating assignments, etc., which are out of the control of PEF MBP.
Purchase Tickets
Purchase Tickets