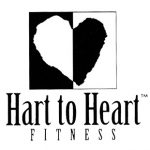 About Hart to Heart FitnessTM
Hart to Heart Fitness™ is a privately held franchise of the Jacki Sorensen Aerobic Fitness Programs. Owner, Diane H. Hart, is a degreed health fitness professional and nutritionist with over 30 years of experience. Diane and her team of certified fitness experts offer nutrition, aerobic classes, step aerobics, weight training, pilates, and personal training to all ages in the tri-county area (Albany-Schenectady-Troy) of New York State. She leases various community center gyms, church auditoriums, etc., where classes are held. As a specialist in workforce wellness, the Hart to Heart staff will also arrange to conduct on-site classes at places of employment. Each workout session adheres to the exercise guidelines set forth by the American College of Sports Medicine and each participant receives the safest and most effective quality-controlled instruction in the wellness industry.
About Hart to Heart Fitness
Hart to Heart Fitness Discount Offer
NEW students enrolling in classes, who are members of PEF, receive:
Aerobic Fitness: $103 for 12 weeks/24 classes—Save $20 off regular price of $123
Pilates: $62 for 6 classes—Save $10 off regular price of $72
Personal Training: $100 for 1-hour training—Save $50 off regular price of $150
1 hour health seminars on a variety of topics: $100—Save $50 off regular price of $150
Email Diane Hart, or call (518) 456-1058, for class schedules, locations, and to register.
Additional Details & Disclaimers